Made in France
Enhance and perpetuate our French know-how
LE FORMIER shoes are manufactured exclusively in France in our factory located in La Romagne (49). With a heritage of more than 75 years as a French shoe manufacturer, the Cléon factory can count on the expertise of its teams to perpetuate the French know-how for which it is renowned.

Between the different operations (cutting, stitching, assembly or even finishing) there are nearly 45 people who work to design your shoes. Men and women driven by passion and the demands of their profession, which requires know-how and concentration!
Raw and sustainable materials
Minimize the impact of our shoes on the environment
1. European materials

In a local approach to limit our carbon footprint, all our shoes are designed from European materials selected for their quality and harmlessness.

For the manufacture of our leather shoes, we only use traditional leathers from European cattle farms. In this way, we allow animal skins to be used and not to be thrown away. A noble material, leather has many properties: flexibility, resistance, impermeability; true guarantees of quality and durability!

For the laces of our derbies and boots, we use a workshop located in Cholet (49), just 10km from our factory.
2. Certified materials

Leather tanning is an essential step in the manufacture of a leather shoe. This is why as a shoe manufacturer whose models are mainly made of leather, LE FORMIER has chosen to surround itself with Leather Working Group (LWG) certified tanneries to take concrete action in favor of sustainable production. The LWG certification gives the assurance that all our partner tanneries are committed to producing leather while respecting people and the environment.
From the beginning, LE FORMIER has been committed to respecting the environment. In this desire to be ever more responsible, we innovate each season in the choice of materials.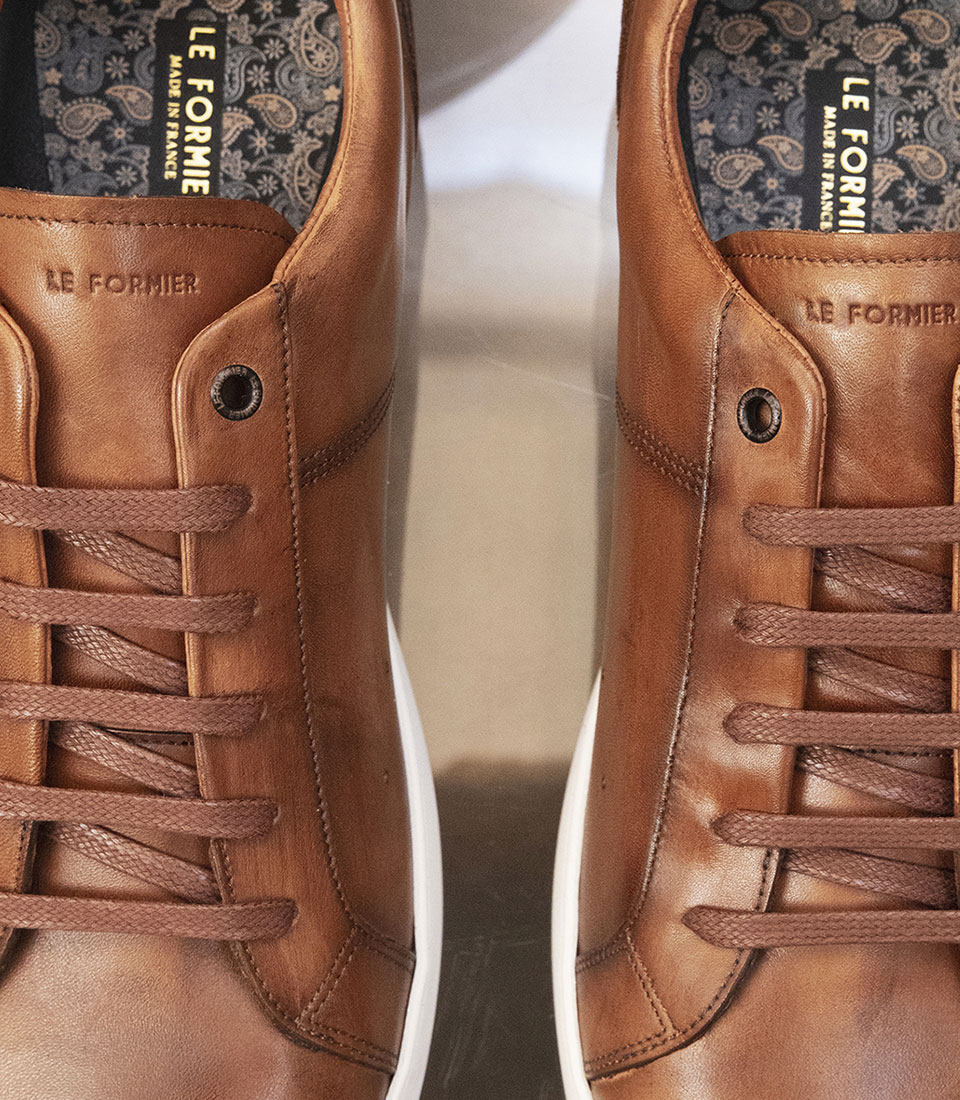 Eco-friendly materials
Carefully select labeled materials
In addition to working with Leather Working Group certified European tanneries, we try each season to innovate in the choice of our materials. More ethical materials for durable shoes and a controlled carbon footprint.
Top materials
This tanning technique transforms the skin into leather using natural essences and pigments that respect our health and the environment.
Chrome-free tanning is a synthetic tanning that does not use any chrome salts or heavy metals. A process that ensures healthy and durable shoes.
Seaqual recycled polyester
Seaqual® is a 100% recycled polyester that comes from waste collected in the ocean (fishing nets, plastic bottles, etc.) A faultless result for this eco-designed fiber that cleans up the oceans!
Lining and laces
Global Recycled Standards
The GRS label is a label that guarantees that the textile is made of recycled fibers and that it has been designed in compliance with social and environmental standards. LE FORMIER relies on this certification to select textiles for the manufacture of linings and laces.
Quality and safety
Guarantee the quality of our shoes
f our impact on the environment is at the center of our concerns, the quality of our shoes is too. Making our shoes in France in our factory allows us to carry out regular checks and guarantee the conformity of our products.
Signatory of the InnoSHOE charter, we are committed to designing elegant and durable shoes, guaranteed to be free of products that are toxic to health.

InnoSHOE is a safety charter signed voluntarily and collectively by shoe manufacturers. Through this certification, LE FORMIER undertakes to regularly check the conformity of the materials used by carrying out test campaigns with accredited laboratories.

This innovative approach aims to reassure our customers and comfort our resellers in their choice of supplier and offer more transparency and reliability.