Are you looking to buy men's leather derbies? For men looking for elegance, derbies remain a safe model. Whatever color or material you are looking for for your derbies, all the models are on LE FORMIER. A French shoe brand with recognized know-how, LE FORMIER offers a wide selection of men's leather derbies. Discover our Fall-Winter collection without further delay.
Where are LE FORMIER leather derbies made?
Our derbies for men are all exclusively made in France in our shoe factory located in La Romagne (49). All our collections are designed, sketched and modeled by our style team whose offices lead directly to our production workshop. A proximity that allows us to master all the stages of manufacturing our men's shoes and to refine our men's leather derbies down to the smallest detail.

As French shoes brand, LE FORMIER makes it a point of honor to maintain its production of men's derbies in France. We are committed to promoting French know-how and that is why all our derbies are made locally, in the heart of one of the historic cradles of French footwear. In total, 45 people are involved today in the production of our models of men's leather derbies.
What are the different types of LE FORMIER derbies?
At LE FORMIER we offer men's leather derbies designed from reasoned materials, carefully selected in a local approach to limit our carbon footprint. All our men's derbies are thus made of European leather guaranteed to be free of toxic and harmful products for your health.
Among our selection of leather derbies, you will find: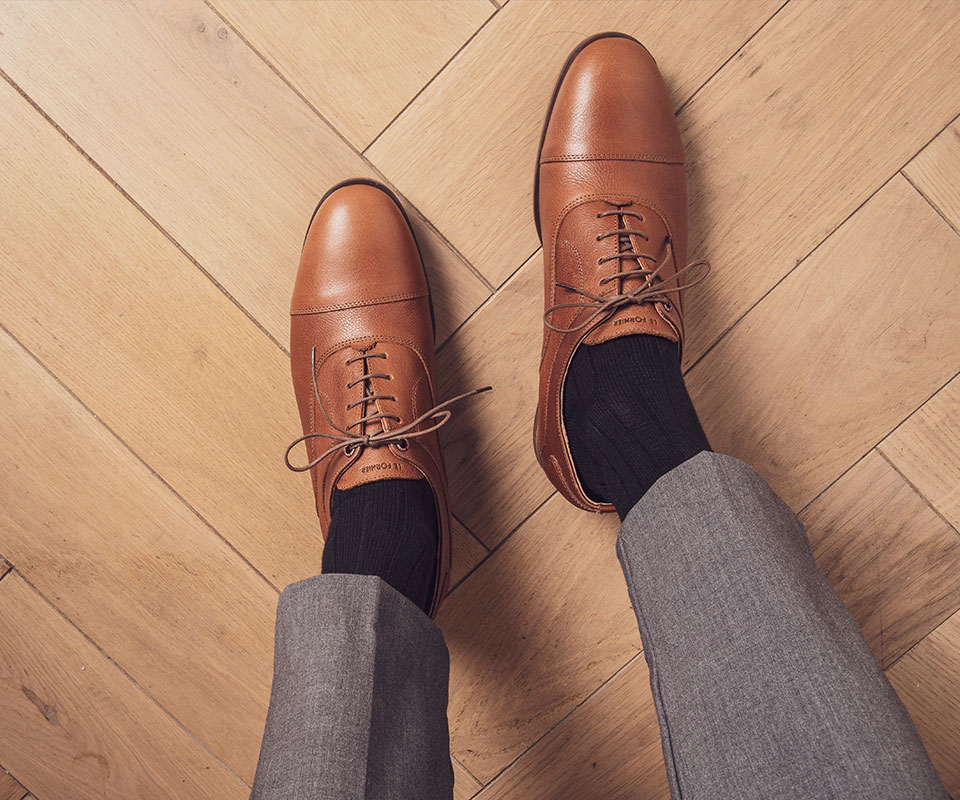 Brown derbies – A true essential in the men's wardrobe, brown men's derbies adapt to all everyday outfits. We like to wear them with raw jeans and a big wool sweater for a casual chic style that looks great. Discover our selection of men's brown derbies.

Suede derbies - Suede, velvet: there are plenty of synonyms to describe this type of men's leather derbies with a velvety touch. Bolder than smooth leather derbies, these derbies will bring the right amount of originality to your looks. Discover our selection of men's suede derbies.


Derby shoes for men available from EU size 40 to 45
LE FORMIER declines all these models of men's leather derbies from 40 to 45. Produced in limited series in our workshop, our derbies can be victims of their own success. If the pair you are interested in is no longer available, subscribe to the alert to be notified when it is back in stock.

A question, a desire? Do not hesitate to contact us for more information. Whether it is for more details on the manufacturing process of our French shoes or to give us your feedback on our collections of men's derbies, the entire LE FORMIER team will be happy to answer you!